11/12/2009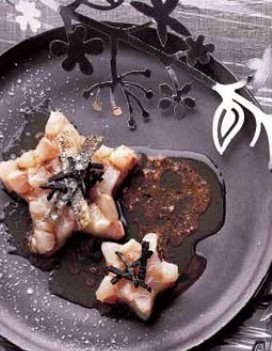 INGRÉDIENTS
400 g de filets de bar de ligne ultra-frais
1 truffe de 50 g
2 c. à soupe de sauce soja japonaise
1 c. à café de vinaigre balsamique
1 c. à soupe de jus de truffes
1 c. à soupe de crème fleurette
2 c. à soupe d'huile d'olive herbacée
fleur de se
RECETTE
Tartare de bar aux truffes
Otez la peau du filet de bar. Faites chauffer 1 c. à soupe d'huile dans une poêle et faites dorer la moitié de la peau du bar. Lorsqu'elle est croustillante, posez-la sur un papier absorbant et laissez-la refroidir. Ensuite, détaillez-la en bâtonnets.
Coupez la chair du bar en petits cubes. Salez-la légèrement. Tassez le poisson cru dans 4 ramequins, puis démoulez-les sur les assiettes. Réservez au frais.
Emulsionnez le reste d'huile, le jus de truffes, la fleurette, la sauce soja et le vinaigre. Taillez la truffe en lamelles.
Arrosez les tartares de sauce, parsemez-les de truffe fraîche, ajoutez quelques bâtonnets de peau de bar dorée et servez aussitôt.
Note personnelle : cette recette ne respecte pas le rythme des saisons. Le bar doit être consommé d'Avril à Août, tandis que la truffe est fraîche de Novembre à Mars...
10/12/2009
INGREDIENTS
Pour 4 personne(s)

- 2 aubergines
- 2 carottes
- 2 radis noirs
- 4 courgettes
- 2 avocats
- 1 concombre
- 1 fenouil
- ½ botte de thym
- 400 gr de saumon Balik
- 400 gr de chair de crabe Royal
- 20 ml d'huile d'olive
- Sel, poivre, piment d'Espelette

Recette proposée par :

Renata Dominik

PREPARATION
Laver les légumes. Éplucher les carottes et les radis. Tailler les aubergines, les courgettes et les carottes en fines lamelles.
Assaisonner les lamelles d'aubergines et de courgettes avec du thym, du sel et du poivre et les faire griller légèrement.
Faire cuire à l'eau bouillante pendant 4 minutes les lamelles de carotte et radis noir, puis les refroidir à l'eau glacée. Les éponger.
Superposer les lamelles de carotte sur une longueur de 4 cm. Garnir avec le saumon fumé et les avocats coupés en bâtonnet. Former des rouleaux.
Suivre le même procédé avec les lamelles de radis, courgettes et aubergines. Garnir selon envie : saumon, chair de crabe, concombre, fenouil. Assaisonner avec du poivre du moulin, piment d'Espelette, huile d'olive.
05/12/2009
27/10/2009
I've always had a strange addiction to potato chips. The impulse usually clocks in conveniently when I'm in the mood to watch a marathon of SVU episodes. Olivia Benson with long hair please, not short. The beauty of indulging in a big bag of chips is in its mindless repetition. I thought it was about time that I take this mindless repetition and turn it into something more mindful.
Chip flavors are always powdered into an imitation of what the flavor is supposed to taste like. Sour cream and onion isn't the same as tasting real sour cream and onions, (Though I suggest Baked Lays Sour Cream and Onion, my favorite chip). Sure, Imitation in itself has value. Just not all the time. I want confrontational flavors. Cilantro chips, maybe even vanilla flavored chips- I could try several different flavors and see which one I like most…
Newly acquired spiral shaver below. I use it for cucumbers so that I can wrap my sushi rolls with them, but I tried it with a potato, and it started shaving out a long sheet of potato……….You can see I am spinning the wheel so the potato feeds through the blade.
It sort of looks like tissue paper. I'm holding the spiral shaved sheet of one potato in the picture below.. Its pretty long..
This long sheet above now becomes 8 small sheets, uniform in size and visuals.
Flavors; Red pepper thread, prosciutto + red peppercorn, cilantro, and Vanilla. Mr. Adria is well known for his Vanilla whipped mashed potatoes. I thought I could try this vanilla flavor for potato chips…Gross? Maybe. I quite like it. I had never tried Vanilla under the savory context. My plan is to layer these ingredients in between two sheets, sort of like mummifying them or sandwiching them so they are "Trapped".
Spreading the vanilla on the potato sheet.
So you can see in this image I just sandwiched the flavors in.
Baking rack. This is a waved baking rack made especially for baking french baguettes but I used it to create waves for the potatoes while baking them. This rack is also good because it has a perforated wall which lets the steam from the potato disappear, allowing for a crispier chip.
I noticed Cilantro had the most moisture. Next time I will dry my cilantro first.
Sprayed with PAM, and baked at 250 F for 40-50 minutes. Its more like dehydrating and baking at the same time.
You can see I have a very strange fixation with Vanilla and potatoes…
I think these chips are good for snacking while drinking alcohol… before a dinner party. You know, when everyone just starts to get to your place and the food's not quite ready yet but people are eager to drink…I think the potato+prosciutto combo is better than serving Beef Jerky. Why do I sound like Ina Garten right now? I'm much too young to be talking like this and I don't even like dinner parties..
The one in the middle with olives is a Dirty Martini, and the one next to it a Pomegranate martini with Pomegranate seeds stuck inside agar agar like a Damien Hirst Formaldehyde piece. Dirty martinis are my favorite, extra olive juice and extra olives.
In the middle, Kahlua and cream.
Labels for your loved one.
If you're curious to know how these shots were made, here is the process. You need to get agar agar which is a flavorless jello like liquid (when heated). Right now they are dried up bars. First soak them in hot water for 30 mins and then boil for 10-15, and eventually it will turn into a liquid.
Choose your alcohol of choice, add the heated, liquified agar agar into the shot glass, and pour in the alcohol. The more agar you put in, the stiffer it will be, but in general its best to consume when its soft and liquid like so don't pour in too much of it.
So let it cool for a while in the fridge.
Flip over your cup to test of it there is still liquid coming out. If it has turned somewhat solid, you're ready to take the shot out of your mold, and here it is, liquid turning into solid. This is nothing new and its been around in China and Japan for ages now, they use it to mummify their fresh sushi and a bunch of desserts. Japanese people love this jello like stuff; you can find it online or at a Japanese Supermarket. Crazy food chefs like Arzak, Achatz, and Adria use this stuff too. Its real easy. Before you put it in the fridge is when you can other things like fresh fruit so that it floats inside.
Okay so now you're done. You don't have to decorate, its nice to just keep it plain too as I've done with the other courses. Again, I tried to take a more romantic approach in styling this shoot.
17/10/2009
10/10/2009
03/10/2009
29/09/2009